For over a decade, the AWQA partners have made significant progress towards protecting and enhancing regional water quality. Some examples of our success include:
2014 AWQA Update
Serving Cantonese Speaking Growers: The Central Coast Ag Water Quality Coalition partnered with the Loma-Prieta Resource Conservation District, the Hollister branch of the NRCS, UC Cooperative Extension, Community Alliance of Family Farmers, and the Bay Area Chrysanthemum Growers Association to provide conservation outreach and assistance to Cantonese-speaking growers in Santa Clara and San Benito Counties and to strengthen relationships between agencies, nonprofits and growers.
Water Quality Workshops: Four water quality workshops coordinated by the Ag Water Quality Coalition and liaising between the Regional Water Board and the grower community to build capacity to improve water quality and comply with regulations in the long term.
Integrated Pest Management: Over 60 growers participated in Food Safety and Integrated Pest Management short courses led by UC Cooperative Extension.
2013 AWQA Accomplishments Update & Report

America's Great Outdoors (AGO): In fiscal years 2011 thoough 2013, NRCS allocated more than $3.8 million in additional Environmental Quality Incentives Program (EQIP) dollars to support conservation practices through 143 contracts with farmers and ranchers in the region.
Serving Cantonese Speaking Growers:   During fall and winter of 2011-2012, about 70 growers attended workshops with Cantonese translation, which focused on conserving water and minimizing the leaching nutrients.
Applied Research: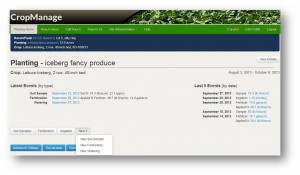 UC Cooperative Extension Advisors conducted trials in broccoli and iceberg lettuce in 2012 and 2013 to demonstrate the use of evapo-transpiration in determining crop irrigation needs. Their trials showed that commercial lettuce crops could be produced using about 30% less water and 50% less fertilizer nitrogen (than average) without a yield or quality reduction. CropManage, an online database-driven tool, assists growers and farm managers in determining water and nitrogen fertilizer applications for lettuce on a field-by-field basis and is available free of charge to growers.
2010 AWQA Accomplishments Update & Report

Agricultural Water Enhancement Program (AWEP): In 2009 and 2010 over $3.1M in federal cost share funding supported 71 growers in installing 384 conservation practives treating 12,423 acres to improve irrigation and nutrient management.
Cooperative Conservation Partnership Initiative (CCPI): Technical assistance partners in San Mateo county helped growers assess and improve irrigation efficiency, improving distribution uniformity on participating farms by 20-30%.
Permit Coordination: Sustainable Conservation conducted an evaluation of the Partners in Restoration Permit Coordination program, finding that over the last 13 years 227 restoration projects have been completed under 8 PiR programs covering all or protions of eight counties within CA. These practices have prevented over 200,000 tons of soil loss.
2008 AWQA Accomplishments Update & Report

Farm Water Quality Planning Education: From 2001-2007, 2,000 growers representing 350,000 acres of irrigated agriculture along the Central Coast participated in Farm Water Quality Planning Short courses developed by AWQA partners. AWQA partners continue to offer agricultural water quality educational opportunities, hosting 55 technical workshops in 2008 alone.
Permit Coordination: Streamlined permitting programs in several counties expedite the permitting and installation of conservation projects in partnership with 7 local, state, and national regulatory agencies. By the end of 2008, the 4th year of program implementation, the RCD of Santa Cruz County and NRCS reached a total of 47 projects completed under the Countywide Partners in Restoration permit coordination program restoring 76.5 acres of riparian/aquatic habitat and opening 16 linear stream miles for the migration of salmonids.
Conservation Practice Implementation: Land managers implemented many practices in Sanctuary watersheds with NRCS and RCD assistance in 2008, including:
18 miles of rural dirt roads treated to reduce sediment runoff
2,150 new acres of farmland planted with cover crops
34,715 new acres of rangeland managed with improved grazing techniques
2,440 feet of streambank erosion problems stabilized
3,100 feet of windbreaks and hedgerows planted
Applied Research: UC Cooperative Extension Advisors, working with growers and Fresh Express, a major lettuce handler and shipper, conducted three trials in romaine and iceberg lettuce to demonstrate practices to reduce water and nitrogen inputs on a commercial production scale in 2008. Their trials showed that commercial lettuce crops could be produced using about 30% less water and 50% less fertilizer nitrogen (than average) without significantly reducing yield. In some cases product quality even improved.
Addressing Food Safety and Water Quality Conflicts: AWQA partners have fostered collaboration and provided tools for food safety and water quality co-management through:
Research to evaluate the effectiveness of water quality practices in reducing the concentration and transport of bacterial pathogens in irrigation tailwater; to investigate factors that affect E. coli growth and survival in agricultural soils; and to survey grower perspectives on the impacts of food safety metrics upon environmental protection.
Education and outreach conducting trainings on the conservation aspects of food safety through Hartnell College to private sector food safety professionals; conducting technical trainings for conservation field staff on food safety considerations for conservation planning; hosting a food safety track during the 2007 National Conference on Agriculture and the Environment and hosting a Food Safety & Water Quality co-management conference.
Regional Coordination of the Farm, Food Safety, & Conservation Network – a Central Coast region working group that supports the agricultural industry's efforts to reduce food safety risks through methods which also minimize or avoid impacts to water quality, wildlife and habitat. Visit www.awqa.org/networkwiki
AWQA was awarded the Governor's Environmental and Economic Leadership Award
The nations largest berry producer reduce water use by as much as 50% with assistance from UCCE.
NRCS helped farmers save 172 ac-feet of water in the Pajaro and Elkhorn Slough watersheds from improved irrigation efficiency. That is enough water to irrigate 60 acres of strawberries for an entire year.
Erosion was reduced on 4.3 miles of farm access road.
Farmers on over 1,000 acres of land are now using cover crops on their fields in the winter.
Over 13,000 ft of hedgerows were planted this year.
870 ft of stream bank were protected.
18 Farm Water Quality Planning short courses were offered with 708 farmers participating. 22% of the courses in 2005 were offered in Spanish.
UCCE conducted 19 field trials to evaluate the effectiveness of monitoring techniques and management practices to protect water quality.
70 one-page management practice information sheets were developed. Each practice sheet has a general description, picture, pros and cons, benefits to water quality (if known) and links to additional information.
Ranchers in the region applied conservation practices to over 54,000 acres of grazing land, making up over 10% of grazing land acreage protected by NRCS in the state.